Sister Michelle Collins received a 50th Anniversary Scholarship Grant to travel to Jamaica in September. Read along with her experience!
---
Today's word was "salvation."  In the sense, I think, of who is it that needs salvation?  We talked a lot about the role of Sunday morning worship in either serving the believers, or equipping them to go out to the rest of the week.  I just found that the way I think about Sunday morning worship and the way pastors I know think about it didn't fit into the categories and labels we were evaluating.  I don't know how much of that has to do with the difference between Lutheran ecclesiology (understanding of the church) and conservative Evangelical ecclesiology.  But something is different.
The first stop this morning was "The Infirmary," which is actually a residential facility for adults who have nowhere else to go.  It used to be called "The Poor House."  So sad.  The first lady who greeted us is non-verbal, but gives long, tight hugs and has a great smile on her face as soon as she sees visitors.  The next guy to greet us was a guy named Gladstone who loves to sing and shared "Jesus loves me" with us.  After a basic introduction we went around to greet the residents.  I, of course, had flashbacks to CPE and the trauma of not being able to greet residents.  But I took a deep breath and saw these folk as Jesus' beloved children…and I found myself ministered to even as I shook hands, touched shoulders, said good morning, and waved.  It was phenomenal.  One guy I talked to, named Alvin, is bed-ridden due to a traumatic burn accident years ago.  He's been at The Infirmary for 24 years.  A really bright mind is stuck inside a body that just doesn't work anymore.  But when I introduced myself to him he said, "You are a deacon.  You work with pastors.  You help them."  He understood my role in the church better than even the pastors I was travelling with.  And somehow in the brief conversation I had with him, something about my call to being a Deaconess was affirmed.  It matters that I am a deacon and not a pastor.  It matters that I serve alongside a pastor.
The whole visit was pretty phenomenal.  And so heart-breaking.  Each person with a story…and who knows their stories?  Who will remember Mr. Alvin when his body finally gives up?  Who will remember the hugging lady?  Wards for each gender with rows of beds…sleeping on mattresses and sitting in wheel chairs, people with no teeth trying to talk…so sad.  I was struck by the fact that this has historically been the role of the Deaconess…to create facilities like this, to work at facilities like this, to advocate for people like this…this is why diakonia is so important!
The facility cares for them well, but there is no physical therapy.  So much could be done with physical therapy and occupational therapy.  That hit me in Kenya too…that people with those skills could really make such a difference.  I wonder, sometimes, why God didn't give me a desire to work in that field.
The lady that stopped me near the end wanted to read me a Bible verse.  So I invited her to read Psalm 23.  Then she sang a few songs she wrote herself…which spoke of some really painful experiences with abuse and abandonment.  Then she want on for a good amount of time with story after story of her life that included pain after pain.  She was clear that she does not believe in God and does not want us to pray for her.  if even half of what she was talking about was true, she has been through too much.  If all of what she said is true, she has every reason to feel angry and resentful.  So heart-breaking.
After lunch we went to a lecture about slavery in Jamaica.  If I didn't already feel bad for being white and British, I definitely did after hearing about slavery.  And, again, I just wonder where and when we who are white tell the story of our fore-parents so that we do not repeat history.  We're quick to tell the stories of our 'heroes,' those who accomplished great things.  But we gloss over stories where our fore-parents were involved in causing pain and oppression for other people.  We have heard about how Jamaicans keep the story alive so they know where they've come from.  But do white people?  Do we ever really re-live the atrocities performed by white people so that we can cry out in anguish and vow to change the story for our descendants?  And where do we do that in the church?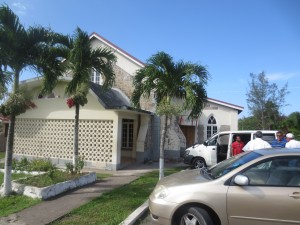 The afternoon was calm.  We had some time to walk around town and catch part of a high school soccer game.  We had time to throw a frisbee around.  I took a great cold shower.  A kid from down the street hung around for a bit and I tried to teach him how to play "Crazy 8s".  We had another yummy supper followed by lots of good conversation.
And now tomorrow we go back to Florida.  What's it all going to mean? I have no idea.